There's nothing more peaceful looking than a child sleeping soundly under his or her covers. And for those of us who are dog-lovers, we can include in that visual a dog sleeping soundly cuddled up with his or her favorite toy.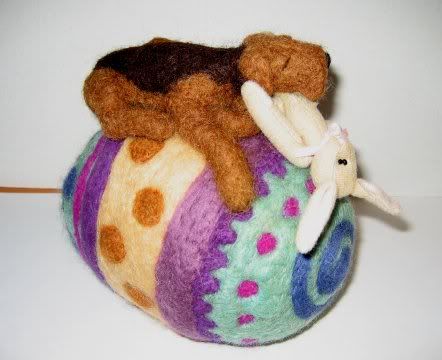 Here's one such pooch. The dog's name is 'Everyone's Dog.' It is a woolen needle-felted creation 6"x3"x1 3/4" with its head propped up on a store-bought bunny.
With the coming of Easter, I needle-felted a colorful Easter egg for them to lie on to further symbolize the peace (and the 'colorful' joy) of the resurrected Christ.
The entire sculpture measures 6"x4"x5 3/4". The dog and bunny are not attached to the Egg so the dog and the egg can be arranged at will.